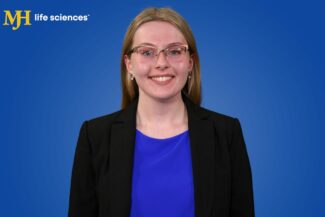 As an editorial intern at MJH Life Sciences, I spend most of my time writing articles—but that is not all I do! Besides writing and meeting with my multiple teams, I participate in training sessions, improve my well-being at wellness activities, and bond with my coworkers at MJH events.
Since my orientation in early June, I have worked with four different MJH brands: The American Journal of Managed Care®, Chief Healthcare Executive™, Managed Healthcare Executive®, and Pharmacy Times®. During a recent week, I balanced my time between Pharmacy Times® (PT) and The American Journal of Managed Care® (AJMC®).
I started off my week remotely with an MJH wellness event, meditation, and light stretching session over Microsoft Teams. After the relaxing session, I checked in with Davy James, the associated editor director of Pharmacy Times®.
He assigned me a few articles to complete over the course of the day. As I worked through the articles, I received a message from another associate on my team asking if I could help with some transcripts from a recent conference she had attended.
I spent my Monday afternoon completing the articles and editing the transcripts to be posted with the recorded interviews.
Tuesday was busy. I started my morning with an editorial training session, one of many I have attended during my time at MJH.
After completing an editing fundamentals course over Teams, I worked on a few more articles for AJMC®. Midafternoon, I took a break to have my professional headshot taken in MJH Studios®.
Once my headshot was taken, I headed to the conference room for the AJMC® daily huddle. Each of my teams has a daily huddle where we discuss our projects, assignments, and some lighter topics, too. On this particular week, we welcomed a new associate to the team!
Wednesday started with another training—this time about cultural sensitivity. After a formal presentation, we discussed ways to make our workplace respectful and shared ideas on how to deal with difficult situations.
Between the training and writing for Pharmacy Times®, I participated in a virtual Pilates course.
Wednesday was also the day of my internship check-in when I got to sit down with Human Resources and discuss my internship experience so far, as well as my professional goals and potential future at MJH Life Sciences. I have had such a wonderful experience working with my manager Laura Joszt and the rest of the editorial team that I spent most of my meeting highlighting how much fun I have had so far and asking about opportunities to come back.
On Thursday I was back to working with AJMC®. I wrote up some articles and transcripts, including transcripts for a patient interview that I had conducted the week before.
I also participated in two training sessions on Microsoft Excel and PowerPoint. I learned a lot about pivot tables, macros, SmartArt, and more. These skills aren't necessary for my current role, but at MJH I've had the opportunity to gain a variety of skills that might come in handy.
I also had another huddle with the AJMC® team to check on our progress. I sent over the video interviews I completed to one of my teammates to edit, and I learned I might be working on a feature article before the end of my internship.
My Friday mornings usually start with huddles for AJMC® and PT, but these huddles are much more fun. For AJMC, we have a weekly recommendations meeting where we talk about TV, music, food, and other things we would like to share with the group. For PT, we played an icebreaker game, guessing songs each associate had chosen to represent themselves as a way of welcoming a new team member who transitioned from another department to editorial.
This was also a special Friday because we had our company Town Hall for the quarter and the Summer Carnival. Normally, we log off at 3 PM on summer Fridays, but this week I logged off at 1 PM and joined the rest of my team at a local park for food, games, and fun. I watched my teammates lose terribly at cornhole, grabbed some fries and lemonade from the catering stand, and watched a bunch of associates compete with the VPs in a no-hands pie-eating contest for charity.
All things considered; it was a pretty good week! And, if I'm being honest, it wasn't a special or unique week as an intern at MJH. So far this summer, I've participated in a variety of professional development events, such as an interviewing/resumé workshop, ice cream social, and lunch with the CEO, multiple training sessions, and a ton of enjoyable wellness events like a dog walk, goat yoga, and Tibetan bowl sound healing.
I only have a few weeks left here at MJH, but I have a lot to look forward to. In the two weeks, I have left, I have a team lunch, an intern baseball game, a business professional workshop, editorial training, and meetings with my team.
Not only am I having a great time, but I'm also leaving with a lot of professional development. In addition to completing multiple training sessions, I have updated and improved my LinkedIn profile and resumé, filmed an elevator pitch in the studio, and built up my writing portfolio. By the time I'm done with my internship, I will have published more than 100 articles among four brands.
My time as an intern is ending soon, but I am excited to enjoy what's left—and I hope you are excited about what you might be able to do here at MJH Life Sciences!